Today, as of 12:37 PM Eastern Time, the S&P 500 has a valuation of $2996.3. Yesterday, as well as the day before, the S&P sat just above the $3,000 mark, a record level for the index. As the market flattens itself along this resistance line, traders are trying to decide if the index has what it takes to break through and continue its historic rally.
What the technicals say:
The main indicator technical traders are watching is the "Ascending Triangle". The Ascending Triangle is two indicators drawn from the recent high and the recent low of a security. The top line marks the resistance line (in this case about $2,950) and the bottom line shows the short term trend of the security. It is believed that if a stock or index can break out above the area of the triangle, it will continue its rally.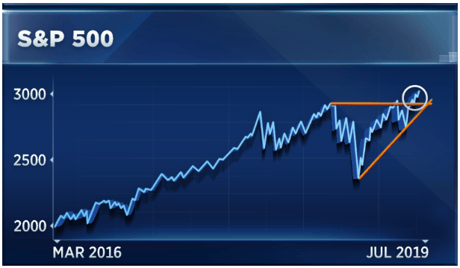 Image provided by CNBC
This breakout is a largely bullish signal, and seems to argue for investors being Confidently Bullish.
Economists and fund owners, on the other hand, seem to disagree. Matt Maley, of Miller Tabak, told CNBC's "Trading Nation" that investors are "willing to buy on any sort of weakness, but they're not willing to chase a stock when it moves higher". This is a definitive argument for investors being Cautiously Optimistic.
Should we celebrate?
The stock market has certainly had an incredible rally since the beginning of 2019, climbing 19.5% to reach this coveted $3,000 mark. While this seems impressive, the S&P 500 is only up 4.18% since January 2018, when Donald Trump first sparked the trade war and the Fed became the talking point of the financial world. To put this in perspective, the world's safe haven: Treasury debt, has yielded 6.98% over the same time period. It is much more reasonable to view the S&P as a newly recovered market, not a running bull. As more and more investors begin to realize this fact, they begin to become more Cautiously Optimistic.
To conclude
Don't pop the champagne corks yet. This middling bull market is on its last legs and the rally of the S&P can be explained as a recovery from its recent painful corrections. At PIR, we have decided to stay on the cautiously optimistic side, remaining fully invested but moving liquidated assets into market ETFs rather than chasing high flying individual stocks.