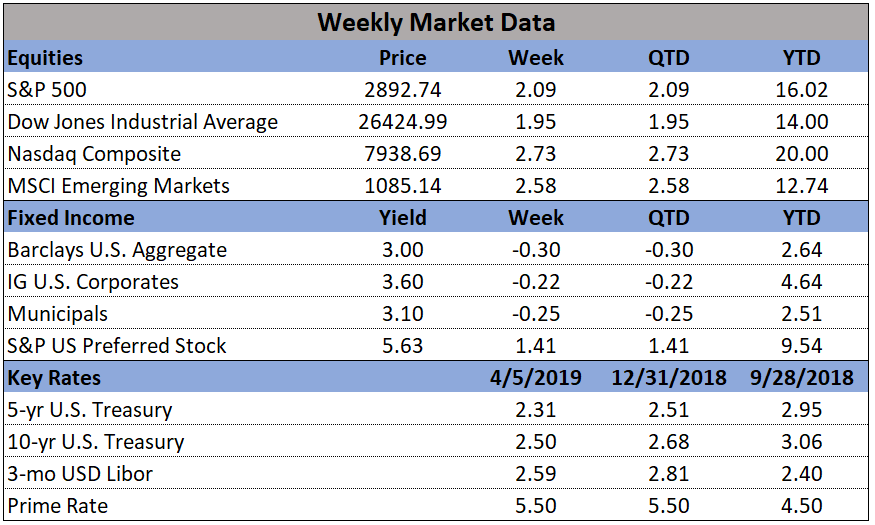 In the markets:
U.S. Markets: U.S. stocks recorded solid gains for the week and most major indexes are now back within 2% of their all-time highs, set last September. The S&P 500 index recorded seven consecutive days of gains, its longest winning streak since 2017. The Dow Jones Industrial Average added 496 points last week to close at 26,424, a gain of 1.9%. The technology-heavy NASDAQ Composite gained 2.7% and closed at 7,938. By market cap, the large cap S&P 500 rose 2.1%, while both the S&P 400 mid cap index and small cap Russell 2000 index added 2.8%.
International Markets: All major international markets finished in the green last week. Canada's TSX rose 1.8% and the United Kingdom's FTSE added 2.3%. On Europe's mainland, France's CAC 40 gained 2.4%, Germany's DAX surged 4.2%, and Italy's Milan FTSE rose 2.2%. In Asia, China's Shanghai Composite jumped 5.0%, while Japan's Nikkei added 2.8%. As grouped by Morgan Stanley Capital International, developed markets rose 2.1%, while emerging markets surged 3.5%.
Commodities: Precious metals were weak, reacting to strength in the stock markets. Gold retreated -0.2% to close at $1295.60 an ounce, and Silver also finished down -0.2% at $15.09 per ounce. Energy continued to be bid higher, now up five consecutive weeks. West Texas Intermediate crude oil surged 4.9%, closing at $63.09 per barrel. The industrial metal copper, viewed by analysts as a barometer of global economic health due to its variety of industrial uses, retreated -1.4% last week.
U.S. Economic News: The number of people applying for first-time unemployment benefits at the end of last month fell to their lowest level in almost 50 years—a very reassuring sign for the economy amid other reports which hinted at slower growth early in the year. The Labor Department reported initial jobless claims fell by 10,000 to 202,000. Economists had forecast a reading of 216,000. Jobless claims have fallen three weeks in a row and are down sharply from the beginning of the year. The downward descent is also apparent in the less-volatile monthly moving average of claims, which fell by 4,000 to 213,000. That number is at its lowest level since October. Continuing claims, which counts the number of people already receiving benefits, slipped by 38,000 to 1.72 million.
The U.S. economy added 196,000 jobs last month, handily beating economists' forecasts for 179,000 new jobs and a positive sign of the health of the U.S. economy. Hiring increased in most major segments of the economy, especially among health care and white-collar employers. Health-care providers led the way with 49,000 new positions added, followed by professional and technical firms, which added 34,000. The unemployment rate held near its 50-year low of 3.8%, the Labor Department reported. Although a significant number of large companies have announced layoffs recently, most firms are still looking to hire. Employers continue to report a shortage of skilled labor. Addressing concerns that a strong labor market may lead to inflation and therefore Fed rate hikes, Eric Winograd, senior economist at AllianceBernstein wrote, "The labor market is certainly strong enough to keep the economy moving forward, but it isn't generating the sort of inflationary pressure that would push the Fed off of its patient stance."
Orders for "durable goods" (goods expected to last at least 3 years), slumped in February largely due to fewer orders for commercial aircraft and defense-related hardware. The Commerce Department reported durable-goods orders sank -1.6%, however the reading was better than the forecast of a -2.1% decline. It was its first negative reading in four months. Stripping out the volatile transportation component, orders actually rose 0.1%. Core capital-goods orders, a key measure of business investment, fell for the third time in four months—down -0.1%. Business investment has been flat for the last three months and up just 2.6% over the past year. That is down sharply from the 10% year-over-year pace seen a year and a half ago.
Sales at the nation's retailers fell in February for the second time in the last three months, according to the Commerce Department. The weaker sales number was another sign of the slowdown affecting broad areas of the U.S. economy. Retail sales declined -0.2% in February, far lower than the 0.3% increase economists had expected. However, offsetting the decline was a bigger gain in January than was initially reported. The government revised sales upward in the first month of the year to show a 0.7% increase instead of 0.2%. While most retail segments showed no or little growth, sales at gas stations rose 1% and auto dealers posted a 0.7% increase. Chief Economist Richard Moody of Regions Financial stated, "Our bottom line is that U.S. consumers remain on firm footing, though rising gasoline prices could curb growth in spending in other categories."
The Institute for Supply Management (ISM) reported its index of manufacturing activity rebounded last month, after hitting a 2-year low in February. ISM's manufacturing index rose to 55.3 from 54.2, exceeding analyst forecasts of 54.6. In the details, the sub-index for new orders jumped 1.9 points to 57.4, while the production sub-index rose 1 point to 55.8 and the employment sub-index surged 5.2 points to 57.5. By industry, sixteen of the eighteen manufacturing industries surveyed by ISM expanded in March. The report provides evidence that, at least in manufacturing, the economy continues to grow. Richard Moody, Chief Economist at ISM summed up the report writing, "There is nothing in the details of the data or the comments to make you think the expansion is going to come to an end anytime soon."
In the services sector, ISM reported growth at its slowest pace in over a year and a half, but firms remain "optimistic". ISM's non-manufacturing (services) index retreated 3.6 points to 56.1 last month, but that was down from one of the highest readings in decades. Analysts consider readings over 50 as positive for the economy, and anything over 55 is exceptional. In the report, new orders and production retreated from very high levels, but still showed plenty of strength. Sixteen of the eighteen services industries tracked by ISM showed expansion, while only two—education and retail—contracted. Jim O'Sullivan, chief U.S. economist at High Frequency Economics observed, "The data are consistent with moderate rather than dramatic slowing in the economy."