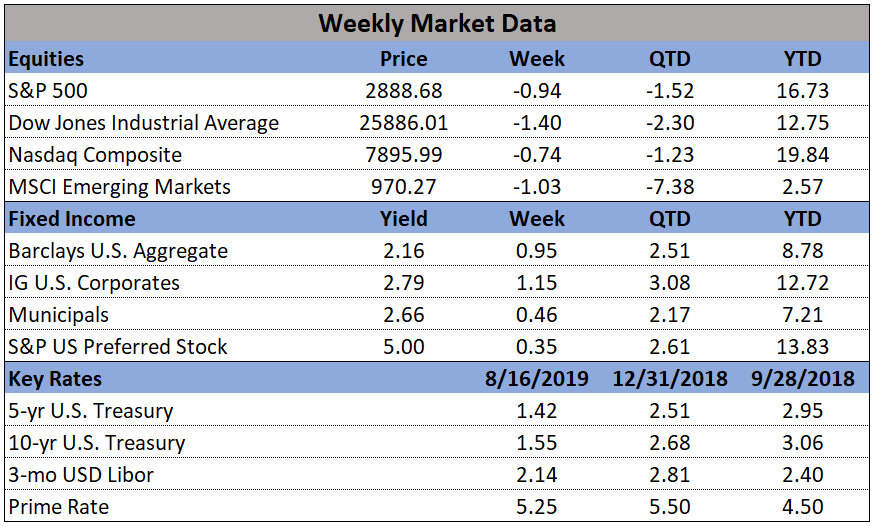 In the markets:
U.S. Markets: Financial markets in the U.S. recorded a third consecutive week of losses as trade and growth worries weighed on investor sentiment. The bulk of the week's decline came on Wednesday as the major indexes recorded one of their worst daily declines of 2019. For the week the Dow Jones Industrial Average retreated 401 points to 25,886, a decline of -1.5%. The technology-heavy NASDAQ Composite fared the best of the major indexes, giving up a lesser -0.8%. By market cap, the large cap S&P 500 index declined -1.0%, while the mid cap S&P 400 and small cap Russell 2000 indexes declined -1.5% and -1.3%, respectively.
International Markets: Canada's TSX retraced all of last week's gain, ending down -1.2%. The United Kingdom's FTSE dropped a further -1.9%; on Europe's mainland, France's CAC 40 retreated -0.5% and Germany's DAX declined -1.1%. In Asia, China's Shanghai Composite managed a 1.8% rebound from last week's decline, while Japan's Nikkei finished down -1.3%. As grouped by Morgan Stanley Capital International, developed markets finished the week down -1.1% and emerging markets gave up -0.8%.
Commodities: Gold continued its rally, adding another $15.10 to finish the week at $1523.60 an ounce, a gain of 1%. Silver added 1.1% finishing the week at $17.12 an ounce. Crude oil managed a gain of 0.6% as West Texas Intermediate closed the week at $54.81 per barrel. The industrial metal copper, viewed by some analysts as a barometer of global economic health due to its wide variety of uses, managed a second week of gains closing up a modest 0.2%.
U.S. Economic News: The number of Americans seeking first-time unemployment benefits rose to a six-week high of 220,000 last week, still far below the key 300,000 threshold that analysts use to gauge a "healthy" jobs market. The Labor Department reported initial jobless claims rose by 9,000 nationally, though most of the increase appears to have occurred in California. Economists had estimated new claims would total 213,000. The less volatile monthly average of new claims rose a lesser 1,000 to 213,750. Continuing claims, which counts the number of people already receiving benefits, increased by 39,000 to 1.73 million. That reading is at its highest level since March.
Homebuilding activity in the U.S. fell for a third consecutive month in July amid a steep decline in construction of multi-family units. The Commerce Department reported housing starts dropped 4.0% to a seasonally-adjusted annual rate of 1.191 million units. The reading missed expectations of an increase to 1.257 million units. On a positive note, single-family homebuilding, which accounts for the largest share of the housing market, increased 1.3% to 876,000 units in July—its highest level in six months. Single-family housing starts rose in the Northeast, West and Midwest, but dropped 3.9% in the South. Furthermore, in a positive sign for future activity, building permits surged over 8% to a rate of 1.336 million units, its largest gain since June 2017.
In a reassuring sign for the economy, sales at U.S. retailers posted their biggest increase in four months in July. The Commerce Department reported retail sales increased 0.7%, more than double the consensus forecast of a 0.3% increase. Sales soared 2.8% at internet retailers, a gain most likely due to Amazon's Prime Day. However, it wasn't just internet retailers responsible for the gain. Sales were up sharply at department stores, restaurants, and electronics outlets as well. Ben Ayers, senior economist at Nationwide stated, "The U.S. consumer continues to prop up the economy, despite the building headwinds to growth from trade disruptions and signs of weakness from other industrialized nations."
Consumers paid more for goods and services such as gasoline and rent in July, but analysts believe the increase wasn't enough to discourage the Federal Reserve from further interest rate cuts. The Bureau of Labor Statistics reported the Consumer Price Index rose 0.3% last month, matching economists' forecasts. Over the past year, the cost of living increased from 1.6% to 1.8%, but it's still far below last year's peak of 2.9% and below the Federal Reserve's stated goal of 2%. Core CPI, which strips out the volatile food and energy categories, also rose 0.3% last month. That number is viewed as a better source of underlying inflationary trends.
Confidence among the nation's consumers fell to its lowest level since the beginning of the year as trade tensions continue to rise and talk increased of the possibility of a coming recession. The University of Michigan's consumer sentiment survey fell 6.3 points to 92.1 this month. Economists had forecast a reading of 96.8. In the details, the sub-index that tracks what consumers think about their own situation and the current health of the economy fell to 107.4—near a two-year low. The measure that tracks expectations for the next 6 months declined 8.2 points to 82.3—also a two-year low. So far consumers haven't cut back on their spending, but waning confidence could cause them to do so in the months ahead. Consumer sentiment is important, as consumer spending represents about 70% of U.S. economic activity.
Sentiment among the nation's manufacturers remained resilient according to two regional surveys. The New York Federal Reserve's Empire State manufacturing index rose half a point to 4.8 this month, exceeding expectations for a reading of 2.5. In Philadelphia, the Federal Reserve's manufacturing index fell to a reading of 16.8 in August, down from 21.8 in July. Economists had expected a much bigger drop to 11.1. In the details of both readings, manufacturers were not as pessimistic about activity as had been expected. Andrew Hunter, senior U.S. economist at Capital Economics nonetheless believes that "With the latest data from China and the euro-zone pointing to continued weakness, and trade policy uncertainty intensifying, the manufacturing downturn probably still has further to run."