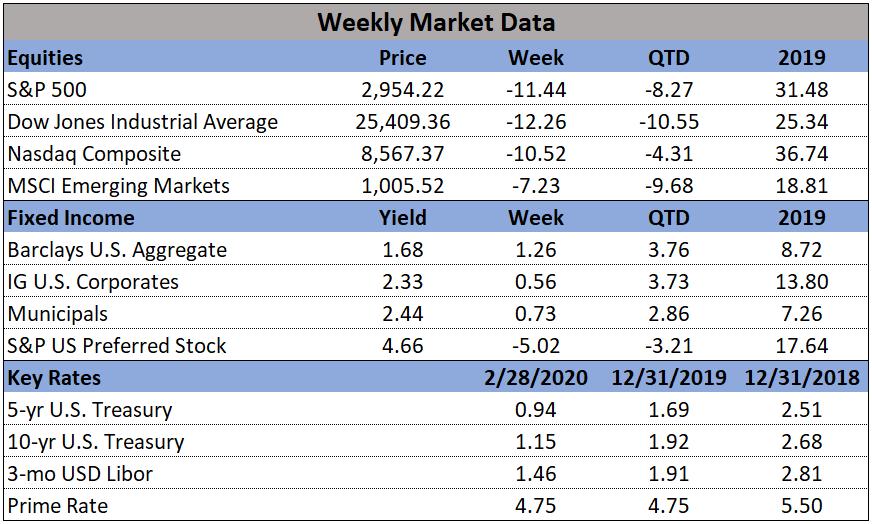 In the markets:
U.S. Markets: Fears over the spreading coronavirus, now known as COVID-19, drove the fastest market correction in history. Stocks suffered their worst weekly decline in over a decade as investors reacted to the global spread of the COVID-19 outbreak. All of the major indexes fell into "correction" territory—down more than 10% from their recent peaks just a week earlier. The technology-heavy NASDAQ Composite fared the "best" only giving up -10.5%, whereas the Dow Jones Industrial Average plunged 3,583 points to 25,409—a decline of -12.4%. The large cap S&P 500 index gave up -11.5%, while the mid-cap S&P 400 fared the worst, closing down -13.0% and the small cap Russell 2000 ended the week down -12.0%.
International Markets: It was a similar story in international markets, although most fared better than the U.S. Canada's TSX declined -8.9%, the United Kingdom's FTSE fell -11.1%, and France's CAC 40 retreated -11.9%. Germany's DAX fared the worst plunging -12.4%. In Asia, China's Shanghai Composite retreated -5.2%, while Japan's Nikkei ended down -9.6%. As grouped by Morgan Stanley Capital International, developed markets ended down -8.8%, while emerging markets fell -6.4%.
Commodities: There was some strange price action in the precious metals market this week. Gold is usually seen as a safe-haven investment that rises during times of market stress, but this week it closed down -5.0% to $1566.70 per ounce. Silver, which often trades with more volatility than Gold, plunged -11.2%. The industrial metal copper, viewed by analysts as a barometer of world economic health due to its wide variety of uses, declined -2.6%. West Texas Intermediate crude oil plunged -16.2% last week.
February Summary: For the month of February, the Dow finished down -10.1%. The NASDAQ Composite declined -6.4%. By market cap the large cap S&P 500 retreated -8.4%, the mid-cap S&P 400 fell -9.6%, and the small cap Russell 2000 declined -8.5%. Canada's TSX declined -6.1% and the UK's FTSE fell -9.7%. On Europe's mainland, France's CAC 40 fell -8.6% and Germany's DAX declined -8.4%. China's Shanghai Composite ended down -3.2%, and Japan's Nikkei retreated -8.9%. Developed markets gave up -7.8%, while emerging markets ended down -3.8%. For the month, Gold finished February down -1.3%, while Silver declined -8.6%. Oil gave up -13.2%, while copper managed a slight gain, gaining 0.9%.
U.S. Economic News: The Labor Department reported that the number of Americans applying for first-time unemployment benefits rose by 8,000 last week to a one-month high of 219,000. However, overall claims remain very close to a 50-year low. Economists had expected claims to total 214,000. Meanwhile, the monthly average of new claims, smoothed to iron-out the weekly volatility, edged up by 500 to 209,750. Continuing claims, which counts the number of people already receiving benefits, fell by 9,000 to 1.72 million. That number is reported with a one-week delay.
Sales of new homes soared to their highest level since 2007. The Census Bureau reported sales of newly-constructed homes soared 7.9% on a monthly basis in January to a seasonally-adjusted annual rate of 764,000. That is the highest reading of new home sales since July of 2007 and marks a new cycle high for the housing market. On an annual basis, new home sales were up 18.6% compared with the same time last year. By region, sales for the month increased the most in the Midwest, where they rose 30.3%, followed by the West at 23.5%. In the Northeast, new home sales increased a more modest 4.8% between December and January, and they dropped 4.4% over that same time frame in the South. The median sales price of new homes sold in January was $348,200.
The pace of home-price appreciation ramped up in December, according to the latest report from S&P CoreLogic/Case-Shiller. Case-Shiller's 20-city home price index posted a 2.9% year-over-year gain in December, up from 2.5% the previous month. Month-over-month, the index increased 0.4% between November and December. Despite the end-of-year ramp, the overall rate of home-price growth was slower in 2019 than the previous year. In the details of the report, Phoenix (+6.5%), Charlotte, N.C. (+5.3%), and Tampa (+5.2%) led the way with the largest gains.
Confidence among the nation's consumers remained high in early February, but that was before fears of the coronavirus took hold. The Conference Board reported consumers were still very optimistic about the economy in early February with its index rising to 130.7—its highest reading in six months. However, analysts were quick to point out the cutoff date for the survey was two weeks ago—before the outbreak of the COVID-19 virus spread outside of China. Confidence is still fairly high by historical standards — the index hit an 18-year peak of 137.9 in late 2018 — but it's unlikely to hold up if the latest coronavirus keeps spreading. Economists at Jefferies LLC wrote, "Looking ahead, confidence is going to depend on how everything plays out with coronavirus."
Americans bought more new cars and spent more money on food and hotels in January, but overall spending has slowed since last summer. The Commerce Department reported consumer spending increased a tepid 0.2% last month, a tick below forecasts. Incomes shot up 0.6%, the biggest gain in 11 months, but the increase included annual cost-of-living increases in Social Security benefits as well as tax credits tied to the Affordable Care Act. Inflation, as measured by the Personal Consumption Expenditures Index (rumored to be the Federal Reserve's preferred gauge), rose a scant 0.1% for the month, lifting the increase over the past year to 1.7% from 1.5%.
The economy expanded at a 2.1% pace in the final quarter of last year, but the U.S. will struggle to achieve even that rate of growth in the months ahead if the coronavirus isn't contained. The Commerce Department forecasts a 2.1% growth rate in the first quarter of 2020 as well. However, tourism and travel-related businesses are already warning of softer sales and profits as cancellations increase. Consumer spending, the main engine of the economy, was revised down a notch to show a mediocre 1.7% pace of growth in the fourth quarter. Outlays had risen 3.2% in the prior quarter. The trade deficit was also sharply lower, giving the biggest boost to GDP.