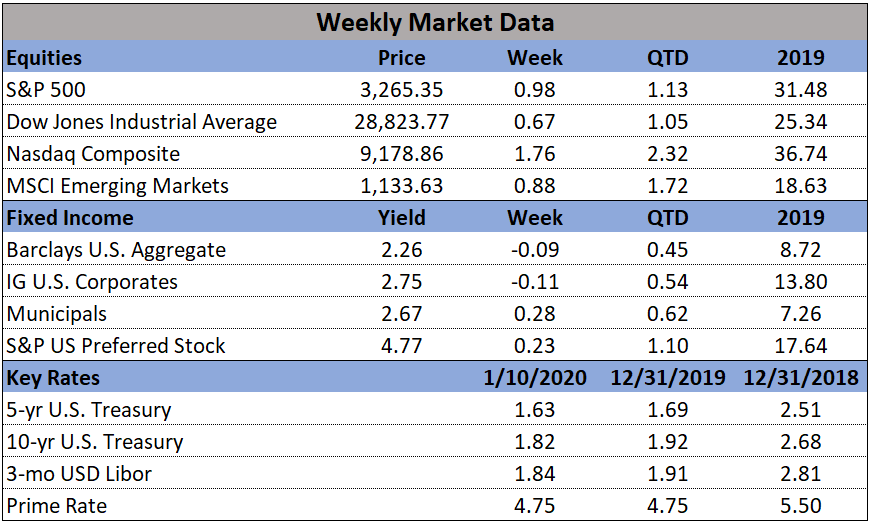 In the markets:
U.S. Markets: U.S. stocks hit new record highs as the prospects for a wider armed conflict between the U.S. and Iran faded by the end of the week. Technology stocks outperformed as bellwether Apple reported stronger-than-expected iPhone sales in China. The tech-heavy NASDAQ Composite rose for a fifth consecutive week, adding 1.8%, while the large cap S&P 500 gained half that at 0.9%. The Dow Jones Industrial Average rose 189 points ending the week at 28,823—a gain of 0.7%. Smaller cap benchmarks finished the week in the red with both the S&P 400 mid cap index and Russell 2000 small cap index giving up -0.2%.
International Markets: Canada's TSX rose 1.0%, while the United Kingdom's FTSE gave up -0.5%. Markets on Europe's mainland were mixed. France's CAC 40 retreated -0.1%, while Germany's DAX jumped 2.0%. In Asia, China's Shanghai Composite rose 0.3% and Japan's Nikkei gained 0.8%. As grouped by Morgan Stanley Capital International, developed markets rose 0.3% and emerging markets gained 1.5%.
Commodities: Precious metals finished the week mixed. Gold added 0.5% to end the week at $1560.10 an ounce, but Silver gave up -0.3% to close at $18.10 an ounce. After five consecutive weeks of gains, oil finished the week down a sizeable -6.4% to $59.04 per barrel for West Texas Intermediate crude. The industrial metal copper, viewed by some analysts as a barometer of world economic health due to its variety of uses, retraced most of last week's decline by rising 1.0%.
U.S. Economic News: The jobs market ended 2019 on a sour note as December's payroll and wage growth both missed expectations. The Labor Department's Non-Farm Payrolls report (NFP) showed nonfarm payrolls increased by just 145,000. Economists had expected a reading of 160,000. Furthermore, average hourly earnings rose by just 2.9%, missing the 3.1% projection. December marked the first time that wage gains were below 3% on an annualized basis since July of 2018. The unemployment rate remained at 3.5% - a 50-year low. In the details, services payrolls rose 140,000 led by retail trade (+41k), leisure and hospitality (+40k), and health care (+28k). Goods-producing payrolls edged down 1,000, as a 20,000 job increase in construction was completely offset by declines in manufacturing (-12K) and mining-and-logging (-9K). Following the release, analysts noted the report was consistent with policy makers' expectations and expect no change in monetary policy. A bright spot in an otherwise lackluster report was the broader measure of unemployment, known as the U6 component of the NFP report. The U6 measures not only unemployed but also marginally employed and involuntarily part time workers. It came in at a new record low of 6.7%, beating the previous low of 6.8% set back in October of 2000.
The number of Americans seeking first-time unemployment benefits fell for a fourth week in a row as new jobless claims fall back to a near 50-year low. The Labor Department reported initial jobless claims declined by 9,000 last week to 214,000. The reading was below economists' forecasts of 220,000. The less-volatile monthly average of new claims dropped by 9,500 to 224,000. Overall, the trend appears to have flattened since the spring of 2019 and remains close to its lowest level since 1973.
In contrast to the NFP report, payroll-processor ADP reported that the private sector added the most jobs in over half a year. ADP reported private payrolls increased 202,000 in December. Analysts had expected an increase of just 150,000. Despite the strong performance at the end of the year, hiring moderated over the course of the year. Private payrolls increased an average of 163,000 per month in 2019—down from 219,000 in the previous year. In the report, services payrolls increased 173,000 led by a jump of 78,000 in the trade/transportation/utilities category. Goods-producing payrolls rose by 29,000—all of it in construction. Payroll gains were concentrated in small and medium-sized firms, which together accounted for ¾ of the total increase.
The services side of the economy, responsible for roughly 80% of the overall U.S. economy, rose to a four-month high at the end of 2019, the Institute for Supply Management (ISM) reported. ISM stated its nonmanufacturing index rose 1.1 point to 55 in December. Economists had expected a reading of 54.3. Readings over 50 indicate growth, while readings at 55 or above are considered exceptional. Anthony Nieves, chairman of the services survey stated, "The respondents are positive about the potential resolution on tariffs." In the details, the increase was led by a 5.6 point jump in business activity to 57.2—its best level since August. Furthermore, 11 of the 17 industries tracked by ISM said their businesses were expanding. In a related survey, analytics firm Markit reported its U.S. services Purchasing Managers' Index (PMI) also rose in December. That index also hit a five-month high, lifted by new orders and employment growth.