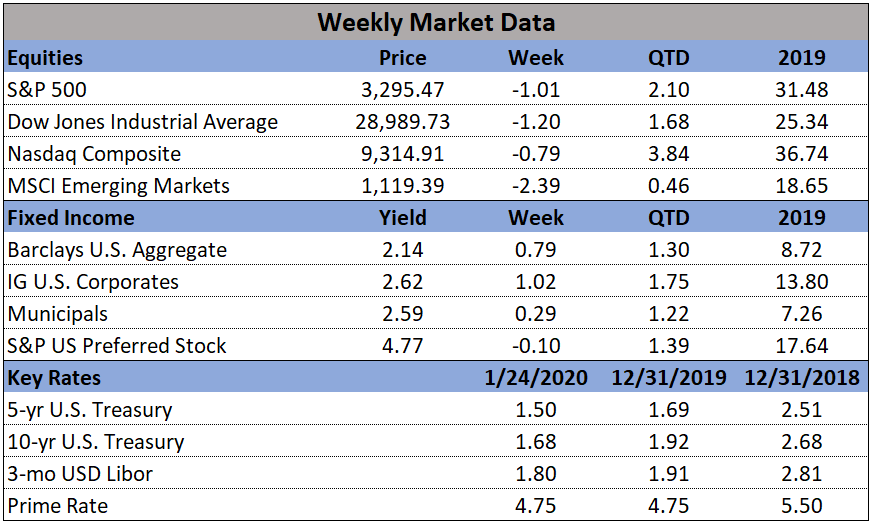 In the markets:
U.S. Markets: Fears of a global virus outbreak sent stock prices lower for the holiday-shortened week. The large cap indexes and the technology-heavy NASDAQ Composite index outperformed and touched new record highs, before falling back sharply on Friday. The Dow Jones Industrial Average fell back 358 points to 28,989—a decline of -1.2%. The NASDAQ fared the best giving up just -0.8%, while the large cap S&P 500 declined -1.0%. Smaller cap benchmarks fared the worst. The S&P 400 mid cap index gave up -1.5%, while the small cap Russell 2000 declined -2.2%.
International Markets: Most major international markets also sold off this week. Canada's TSX managed a slight 0.04% increase, but the United Kingdom's FTSE fell -1.2%. On Europe's mainland major markets were mixed. France's CAC 40 retreated -1.3%, while Germany's DAX gained 0.4%. Italy's Milan FTSE finished down -0.7%. In Asia, China's Shanghai Composite plunged -3.2% on coronavirus fears, while Japan's Nikkei gave up -0.9%. As grouped by Morgan Stanley Capital International, developed markets retreated -1.3%, while emerging markets dropped -3.5%.
Commodities: Investors moved to precious metals as a safe-haven. Gold rose 0.7% to $1571.90 an ounce, while Silver added 0.2% to $18.11. The industrial metal copper, seen by some analysts as a barometer of global economic health due to its wide variety of uses, plummeted -5.7% after two weeks of gains. Oil also finished the week down sharply. West Texas Intermediate crude oil declined for a third consecutive week plunging -7.5% to $54.19 per barrel.
U.S. Economic News: The number of Americans seeking first-time unemployment benefits rose just slightly last week, but remained near 50-year lows. The Labor Department reported initial jobless claims increased by 6,000 to 211,000. Economists had expected 215,000. The more stable monthly average slipped by 3,250 to 213,250. The number of people already collecting unemployment benefits, known as continuing claims, fell by 37,000 to 1.73 million. That number is reported with a one-week delay.
The National Association of Realtors (NAR) reported that the housing market finished 2019 on a solid note. Existing home sales hit their high mark for the year in December, rising 3.6% as low unemployment and interest rates supported demand. Compared to the same period a year earlier, sales of existing homes were up 10.8%. After a slow start to the year, the second half of 2019 showed a pickup in activity that brought total sales for the year to 5.34 million homes. Supply continues to be tight, however. There was only a 3.0 month supply of homes on the market at the end of December—just half the 6 months generally considered to be a "balanced" housing market. December's inventory was the lowest for NAR records tracing back two decades.
Economic activity in the services sector expanded at a more robust pace than initially forecast according to IHS Markit. Markit reported its Services Purchasing Managers' Index (PMI) rose 0.4 point to 53.2 in January. Economists had expected a reading of just 52.9. The latest reading pointed to the strongest pace of expansion in the service sector since last March. It's especially important as services comprise roughly 80% of the U.S. economy. Markit's report for the manufacturing sector wasn't nearly as robust. Markit's Flash U.S. Manufacturing PMI retreated 0.7 point to 51.7. Sian Jones, economist at IHS Markit noted that the manufacturing sector was "not out of the woods yet, with goods producers seeing only modest gains in output and new orders."
The Chicago Fed reported that its National Activity Index (CFNAI) reading for December signaled a weaker economy. The index was -0.35 according to the Federal Reserve Bank of Chicago. This is down from the +0.41 reading the month before. Of the four broad categories comprising the index, three weighed it down. The CFNAI takes into account 85 different indicators and 60 of those negatively contributed, the Chicago Fed said, while 25 positively contributed. The reading came in slightly worse than the market expectation of -0.3 as well.
The Conference Board's Leading Economic Index (LEI) showed economic growth slowed toward the end of last year, but the economy remained stable. The Conference Board reported its LEI fell 0.3% in December—its fourth decline in the past five months. The drop was due in large part to an increase in jobless claims and a decline in building permits for new houses. However, claims have fallen since then and the weakness in permits is seen by most analysts as temporary. The leading index is composed of 10 economic indicators designed to signal peaks and valleys in the business cycle. Despite the decline, economists still expect solid economic growth going forward. Ataman Ozyildirim, economist at the Conference Board said that despite the lower headline number, "…financial conditions and consumers' outlook for the economy remain positive, which should support growth of about 2% through early 2020."