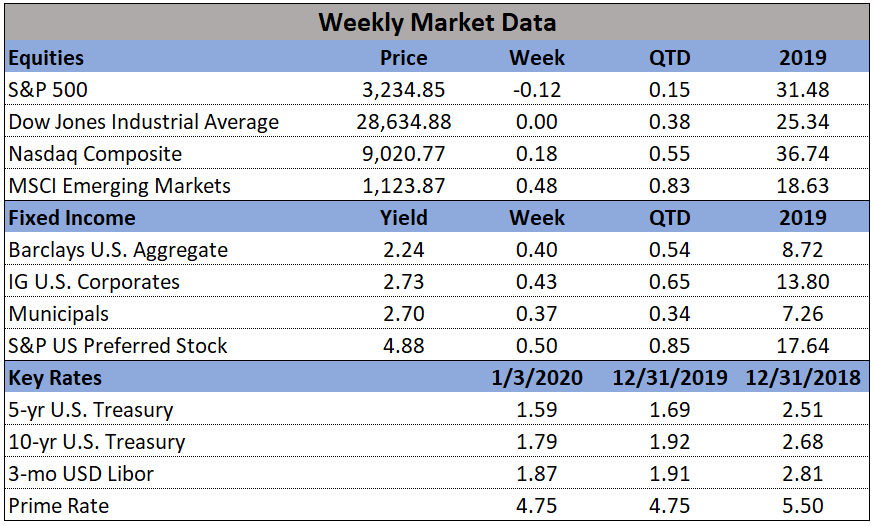 In the markets:
U.S. Markets: U.S. stocks ended the holiday-shortened week mixed after global markets pulled back on the news of the U.S. attack on Iranian military leaders the previous evening. The technology-heavy NASDAQ Composite fared the best, while the smaller-cap indexes underperformed. The Dow Jones Industrial Average ended the week down just 10 points finishing the week at 28,634. The NASDAQ was the only major index to finish in the green, adding 0.2%. The large cap S&P 500 gave up -0.2%, while the mid cap S&P 400 and small cap Russell 2000 declined -0.4% and -0.5%.
International Markets: Global markets were mixed last week with Canada's TSX and the United Kingdom's FTSE off -0.6% and -0.3%, respectively, while France's CAC 40 gained 0.1%. Germany's DAX finished down -0.9%. In Asia, China's Shanghai Composite rallied 2.6%, while Japan's Nikkei finished down -0.8%. As grouped by Morgan Stanley Capital International, developed markets gave up -0.5% and emerging markets retreated -0.3%.
Commodities: Precious metals surged on the news of violence in the Mideast. Gold surged $34.30 to $1552.40 an ounce, a gain of 2.3%. Silver also rose, closing at $18.15 an ounce, a gain of 1.2%. Not surprisingly, crude oil had a fifth week of gains. West Texas Intermediate crude finished the week at $63.05 a barrel, a gain of 2.2%. But the industrial metal copper, viewed by some as a barometer of global economic health due to its wide variety of uses, finished the week down -1.5%.
December, 4th Quarter and 2018 major markets summaries:
Domestic:


International:


Commodities:

U.S. Economic News: The number of Americans who applied for first time unemployment benefits fell slightly, finishing the year back at a near 50-year low. The Labor Department reported that initial jobless claims slipped by 2,000 to 222,000 last week. Economists had expected a reading of 223,000. The monthly average of new claims, smoothed to iron out the weekly volatility, rose by 4,750 to 233,250. The number of people already collecting unemployment benefits, known as continuing claims, increased by 5,000 to 1.73 million. With unemployment near a 50-year low and wages rising, Americans continue to spend enough to prolong a record economic expansion now in its 11th year.
The National Association of Realtors (NAR) reported their index of pending home sales increased 1.2% in November from the previous month. The index records the number of transactions in which a contract has been signed, but not yet closed. Analysts use the data for an early read of likely sales activity in coming months. Compared with the same time last year, contract signings were up 7.4%. By region, sales in the West increased 5.5%, while sales in the Midwest rose by 1%. The Northeast and South saw only fractional changes. Compared to the same time last year, sales were up in all four regions. Lawrence Yun, chief NAR economist noted in the release that a lack of inventory of homes for sale will remain a challenge. However, he added, "favorable conditions are expected throughout 2020 as well."
As mortgage rates held steady at low levels, home-price growth accelerated in October according to the latest data from S&P CoreLogic Case-Shiller. Case-Shiller's 20-city home price index rose 2.2% in October, compared to the same time last year. Month-over-month, the index ticked up 0.1%. At a national level, home prices were up an annualized 3.3%--an increase from September's reading. In the report, Phoenix saw the highest home-price appreciation in the country in October, up 5.8% year-over-year. Tampa was next with a 4.9% increase, followed by Charlotte, North Carolina up 4.8%. Of note, San Francisco experienced its third consecutive decline in home prices on an annual basis.
Americans felt more confident in the health of the U.S. economy at the end of the year, but not quite as optimistic as they were last summer, according to the latest survey. The Conference Board reported its index of consumer confidence fell slightly to 126.5 in December. Economists had expected a reading of 130.2. By historical standards, consumer confidence still remains quite high. The index hit an 18-year high of 137.9 in October 2018 and has remained near that level since. In the details, the measure of how consumers feel about the economy right now rose 4.4 points, however the index that tracks how Americans view the next six months declined. That prompted Lynn Franco, director of economics at the Conference Board to state, "While the economy hasn't shown signs of further weakening, there is little to suggest that growth, and in particular consumer spending, will gain momentum in early 2020."
Manufacturing in the U.S. contracted for a fifth consecutive month as America's trade dispute with China continued. The Institute for Supply Management (ISM) reported its manufacturing index slid 0.9 point to 47.2 in December—its weakest reading in ten years. While the manufacturing sector continued to remain under pressure tied to the ongoing trade war with China, December's deterioration appeared to be primarily due to Boeing's suspension of production of its troubled 737 Max jetliner. Economists had expected the index would be 48.8. Only three of the eighteen industries tracked by ISM reported their businesses expanded in December—the fewest since 2009. Readings below 50 indicate contraction.
The economy in the region around the Windy City improved in December for the second month in a row. However, analysts pointed out that the region is still suffering from the trade dispute with China that's weighed on farmers and manufacturers. The Chicago Purchasing Managers' Index (PMI) rose 2.7 points to 48.9, better than Wall Street had expected. However, as readings below 50 indicate contraction, the index showed the economy in the Greater Chicago area is still contracting. In the details, new orders and employment fell at a faster pace compared to the previous month, but those numbers were mostly offset by improved production numbers.