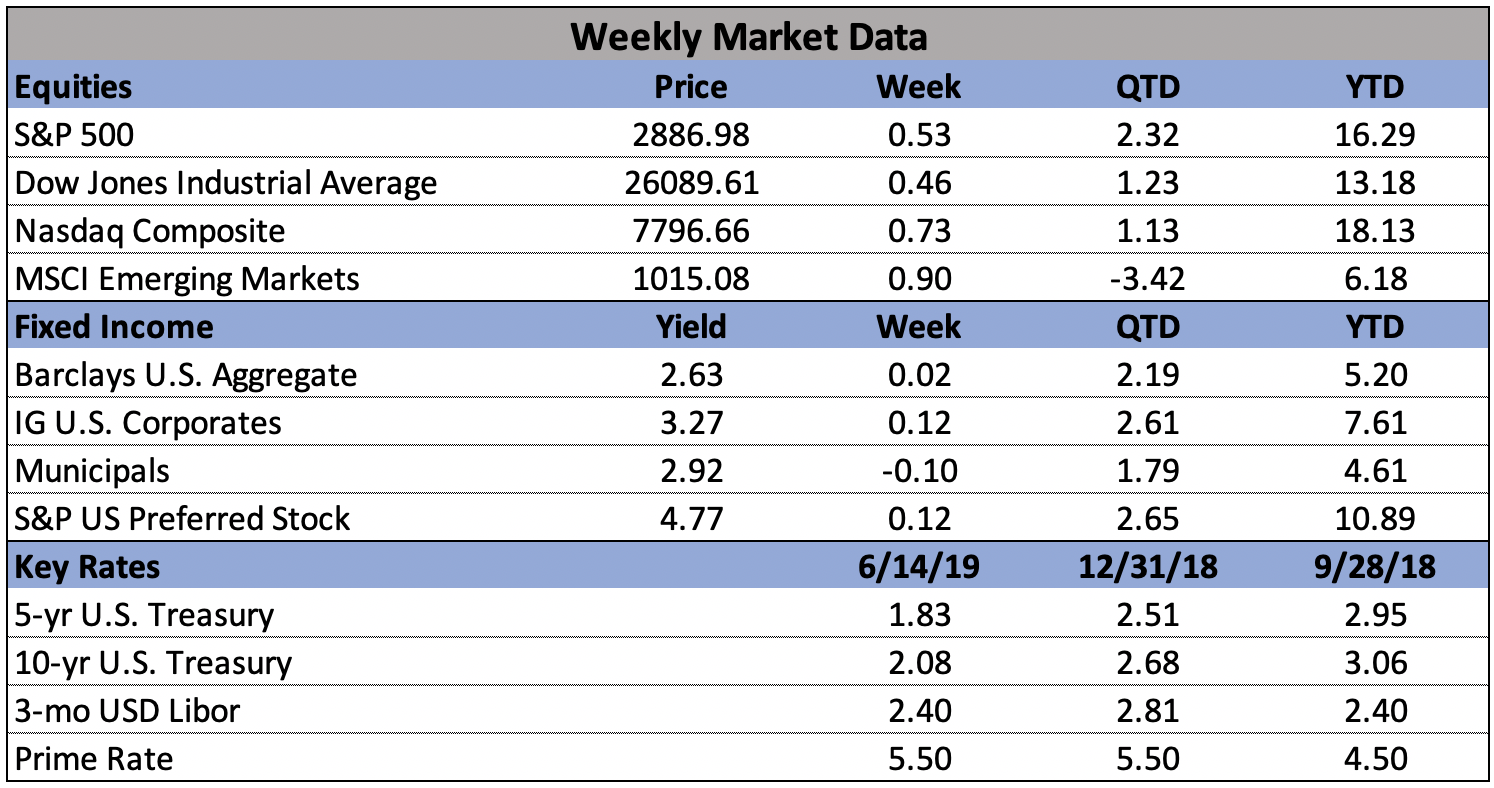 In the markets:
U.S. Markets: U.S. stocks kicked off the week with a strong performance on Monday on news of a trade deal between the U.S. and Mexico but lost some momentum later in the week. The Dow Jones Industrial Average rose 105 points to close at 26,089—a gain of 0.4%. The technology-heavy NASDAQ Composite added 0.7%. By market cap, the large cap S&P 500 index and small cap Russell 2000 index each rose 0.5%, while the S&P 400 mid cap index added 0.4%.
International Markets: Canada's TSX rose a second consecutive week, gaining 0.4%. The United Kingdom's FTSE rose 0.2%, while on Europe's mainland France's CAC 40 ticked up 0.1% and Germany's DAX gained 0.4%. In Asia, China's Shanghai Composite rebounded 1.9% from last week's decline, while Japan's Nikkei gained 1.1%. As grouped by Morgan Stanley Capital International, emerging markets declined -0.2%, while developed markets retreated -0.6%.
Commodities: Gold finished a volatile week down a minor -0.1% to $1344.50 an ounce. Silver also finished the week down, but by a more significant -1.5%, to $14.80 an ounce. West Texas Intermediate crude oil retreated -2.7% to $52.51 per barrel, its third down week out of the past four. The industrial metal copper, viewed by analysts as an indicator of global economic health due to its wide variety of uses, managed a 0.1% gain—its first positive close in nine weeks.
U.S. Economic News: The number of Americans seeking first-time unemployment benefits edged up to a 5-week high of 222,000, but the overall level remains extremely low. The Labor Department reported that initial jobless claims rose by 3,000 to 222,000 last week. Economists had estimated new claims would total 218,000. The less-volatile monthly average of new claims rose 2,500 to 217,750. The number of people losing their jobs still remains near a half-century low, and far below the 300,000 level analysts use to indicate a "healthy" jobs market. Continuing claims, which count the number of people already collecting unemployment benefits, increased by 2,000 to 1.69 million. That number remains close to a 46-year bottom.
In contrast to a weak Non-Farms Payrolls employment report for May, the Labor Department's Job Openings and Labor Turnover Survey (JOLTS) reported the total number of workers hired in April rose 240,000 to a new high of 5.9 million—the highest since the Labor Department started keeping track. The total hirings were the most recorded in the data series' history going back to December 2000. On the openings front, the gap between vacancies and available workers continued to be huge. Openings for the month actually decreased slightly, falling 25,000 to 7.45 million. However, workers that the Bureau of Labor Statistics classifies as unemployed declined by 387,000 to 5.82 million, leaving the gap between available jobs and available workers at 1.63 million.
Sales at the nation's retailers improved for a third consecutive month as worries of a weakening economy seemingly had no effect. The Commerce Department reported U.S. retail sales increased 0.5% with broad-based gains. Economists had expected a gain of 0.7%. In addition, April's sales were revised to a 0.3% gain from the initial report of a -0.2% fall. Almost all categories showed solid gains in May. The only declines were food and beverage stores, department stores, miscellaneous stores and clothing. Ian Shepherdson at Pantheon Economics stated, "The consumer is firmly back on track: the first quarter's softness was misleading."
Sentiment among the nation's consumers declined this month, mostly due to tariff concerns. The University of Michigan said its consumer-sentiment index in June fell 2.1 points to 97.9. Economists had expected a reading of 98. A rise in the current conditions component of the index was tempered by a decline in the index of consumer expectations. In the details, the index for expectations over the next 6 months dropped sharply as consumers raised concerns about tariffs (at the time of the survey there was the possibility of tariffs being levied against Mexico). Of note, negative opinions of tariffs were spontaneously made by 40% of surveyed consumers in early June, almost double the percentage from May.
The National Federation of Independent Business (NFIB) reported optimism among small-business owners continued to rise in May, hitting a "historical high". The NFIB's index rose 1.5 points to 105.0, exceeding economists' forecasts of a 102.0 reading. In the details, six of the ten survey components increased, three were unchanged, and only one fell. Nearly two-thirds reported either "hiring" or "trying to hire", a 5-point increase from April, but over half reported "few or no qualified applicants"—an increase of 5%. In its release, the group said, "It is important to keep policy focus on the small business half of the economy to ensure that it is not dissuaded from investing and hiring because of 'policy oversight' - like not making the tax cuts permanent."
Prices at the wholesale level barely rose according to the latest data from the Bureau of Labor Statistics. The Producer Price Index ticked up just 0.1% in May, matching economists' forecasts. More notably, the increase in wholesale prices over the past year slowed to 1.8% from 2.2%, down sharply from the 3.1% seen last summer. In the details, the cost of services rose 0.3%, while the cost of goods dropped 0.2%. Wholesale gasoline fell 1.7% and food costs declined 0.3%. Food costs have declined in four of the past five months. Scott Brown, chief economist at Raymond James stated, "The report suggests limited pipeline inflationary pressures. A softer global economy may be putting downward pressure on pipeline inflation in supplies and material, partly offsetting the impact of tariffs."
Inflation also remained tame at the consumer level. Consumer prices rose just 0.1% in April--its smallest increase in four months. The reading was the smallest increase since January and matched forecasts. In addition, the annual rate of inflation for April fell to 1.8%, down 0.2% from March. Another closely watched measure of inflation that strips out food and energy, the "core rate", also advanced a meager 0.1% last month. The yearly increase in the core rate slipped to 2% from 2.1% — right in line with the Federal Reserve's target for inflation.