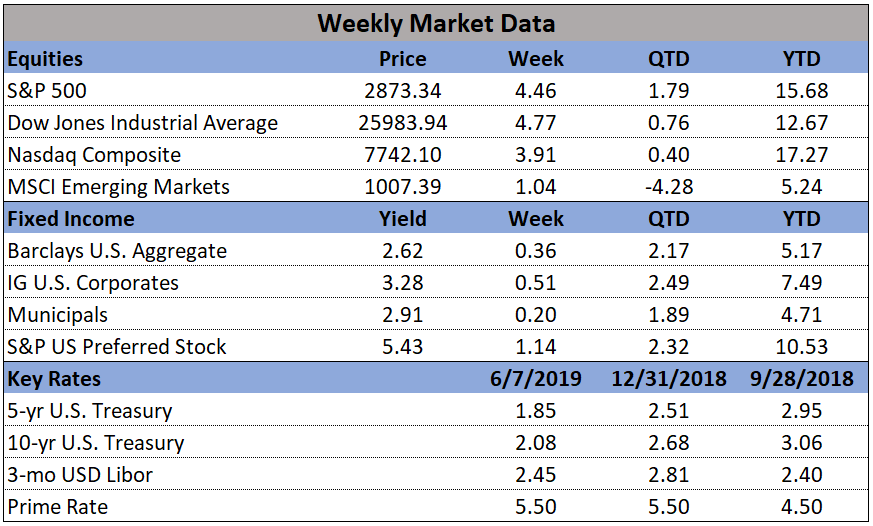 In the markets:
U.S. Markets: U.S. stocks rebounded from their losses in May as belief grew that the Federal Reserve may cut its short-term interest rates later in the year. The large-cap S&P 500 had its best week of the year, surging 4.4% and ending the week within roughly 3% of its all-time high. The Dow Jones Industrial Average surged over 1100 points to close at 25,983, a gain of 4.7%. The technology-heavy NASDAQ Composite rose 3.9%. The mid cap S&P 400 rallied 4.5%, while the small cap Russell 2000 trailed its domestic index brethren by adding "just" 3.3%.
International Markets: Canada's TSX rebounded 1.2%, while the United Kingdom's FTSE rose 2.4%. On Europe's mainland France's CAC 40 rose 3%, Germany's DAX added 2.7%, and Italy's Milan FTSE gained 2.8%. In Asia, major markets were mixed. China's Shanghai Composite fell -2.5%, while Japan's Nikkei rose 1.4%. As grouped by Morgan Stanley Capital International, developed markets rallied 3.4%, while emerging markets added 1.2%.
Commodities: Precious metals jumped higher, with Gold rising 2.7% to $1346.10 an ounce and Silver rising 3.2% to $15.03. Oil finished the week up 0.9% closing at $53.99 per barrel of West Texas Intermediate crude. The industrial metal copper, viewed by some analysts as a barometer of global economic health due to its wide variety of uses, ended the week down -0.5%--its eighth consecutive decline, a bit unnerving to many analysts.
U.S. Economic News: The Labor Department reported the number of Americans claiming first-time unemployment benefits remained flat at 218,000 last week as the labor market remained resilient despite growing global trade tensions. Economists had estimated new claims would total 215,000. The more stable monthly average of new claims fell by 2,500 to 215,000, hitting its lowest level since late April. Claims remain far below the key 300,000 threshold that analysts use to gauge a "healthy" jobs market. Continuing claims, which counts the number of people already receiving benefits, rose by 20,000 to 1.68 million. That number sits near a 46-year low.
Just 27,000 people were hired in the private sector during May, payroll processor ADP reported this week. The reading was far short of expectations of 175,000 new private sector jobs. In the report, small businesses cut 52,000 jobs, while medium-sized companies added 11,000 and large companies added 68,000. ADP Chief Economist Mark Zandi stated on CNBC, "Growth is slowing, and it's slowing very sharply. Business capex is dead in the water." By industry category, manufacturing industries shed 43,000 jobs, while the service sector added 71,000.
ADP's report, which many analysts use to get a feel for the Labor Department's official jobs Non-Farms Payroll (NFP) report, was spot on this time. The U.S. created just 75,000 new jobs in May and employment gains earlier in the spring were scaled back—a worrisome sign that points to a potentially slowing economy. The gains fell far short of expectations for 185,000 new positions. Hiring slowed in almost every key segment of the economy. Professional-oriented companies added 33,000 jobs, while hotels and restaurants boosted payrolls by 26,000, but employment was weak everywhere else. Construction companies hired just 4,000 new workers while retailers shed jobs for a fourth consecutive month. Despite the lower number, the NFP report showed the unemployment rate clung to its 49-year low of 3.6% and the broader measure of joblessness, known as the U6 unemployment rate, dipped to its lowest level in 19 years.
Manufacturing activity in the U.S. grew at its slowest pace in two and a half years last month, according to the Institute for Supply Management (ISM). ISM reported its manufacturing index slipped 0.7 point to 52.1 in the wake of the trade standoff with China and softer auto sales. Economists had expected just a 0.2 point decline. In the details, the production index slipped to 51.3, its lowest reading in almost 3 years, while the index for supplier deliveries fell 2.6 points to 52. While readings over 50 indicate more companies are expanding rather than shrinking, the index has fallen to its lowest level since Donald Trump was elected president.
However, ISM reported the services side (which makes up more than three quarters of the U.S. economy), is still showing plenty of strength. ISM's services survey rose 1.4 points to 56.9—economists had expected a reading of 55.9. The survey stated executives were "mostly optimistic" despite worries about growing global trade tensions and the ongoing shortage of skilled workers. Numbers over 50 are viewed as positive for the economy, while numbers over 55 are generally considered to be exceptional. In the details, the index for business production climbed 1.7 points to 61.2, while the new orders index hit 58.6. The index for employment rose 4.4 points to 58.1—just shy of its all-time high. Altogether 16 of the 17 service industries tracked by ISM said their businesses were expanding.
The nation's trade deficit fell 2.1% in April, but both imports and exports declined. The Bureau of Economic Analysis reported the U.S. trade deficit slipped to $50.8 billion from a revised $51.9 billion in March. Economists had expected a $50.4 billion gap. On the export side, the U.S. shipped fewer commercial aircraft, petroleum-based products, autos, and pharmaceuticals, while imports of chemicals, semiconductors, and cell phones also declined. The trade deficit in goods with China rose 30% to an unadjusted $26.9 billion, though it's still on track to be lower in 2019 than it was in 2018.
The Federal Reserve's Beige Book reported the U.S. economy grew at "a moderate pace overall" in late spring. The Beige Book is a summary and analysis of economic conditions compiled from reports from each of the Federal Reserve's member banks. This latest report was a bit more upbeat compared to the previous report that described U.S. growth as "slight to moderate". However analysts were quick to point out that this latest report was produced just a few days after the breakdown in trade talks with China that triggered a new round of tariffs.
Looking ahead:
Things that caught our eye this coming week include the United Technologies - Raytheon merger, Beyond Meat's surging stock price, and Trump's tariff tactics targeted at our southern neighbor: Mexico.
The UTX-RTN merger would combine an industry leading missile manufacturer with a dominant aircraft parts and engines producer. On United Technologies' website, the company describes the merger as an "all-stock merger of equals". For most investors, this is a very positive sign because it won't force us to realize capital gains if the merger goes through. Equally important though, is the fact that UTX is down -2.31% today. This fact, combined with US President Donald Trump's active stance against the merger, may delay or undermine any progress going forward.
Beyond Meat (BYND) is up 19.76% today, raising its current market cap to $9.96B. For comparison, this market cap is equivalent to half of Chipotle Mexican Grill's market cap, a company with more than 2,500 locations across all 50 states and internationally. While we at PIR believe this to be an overbought position, there is an obvious bet by investors that Beyond Meat will be the first company to introduce plant-based meat alternatives to mainstream fast food and chain restaurants.
Donald Trump's threat to impose a 5% tariff on Mexico was retracted this weekend when Trump agreed to accept commitments Mexico had made in late 2018. These commitments, made by Mexican Foreign Secretary Marcelo Ebrard, outline a plan to send 6,000 troops to the southern border of Mexico to clamp down on asylum seekers, particularly from Guatemala, Panama, and Brazil. Mexico did not, however, agree to become a "safe third country", which would require any immigrants to formally seek asylum in Mexico if they pass through en route to the United States. Because they did not agree, immigrants can still pass through Mexico without direct involvement by the Mexican government.
President Trump hailed the deal as a complete success, a broad claim to make for such a nuanced deal, but tariffs would no doubt have hurt both Mexico and the US, so the deal as it stands is positive.