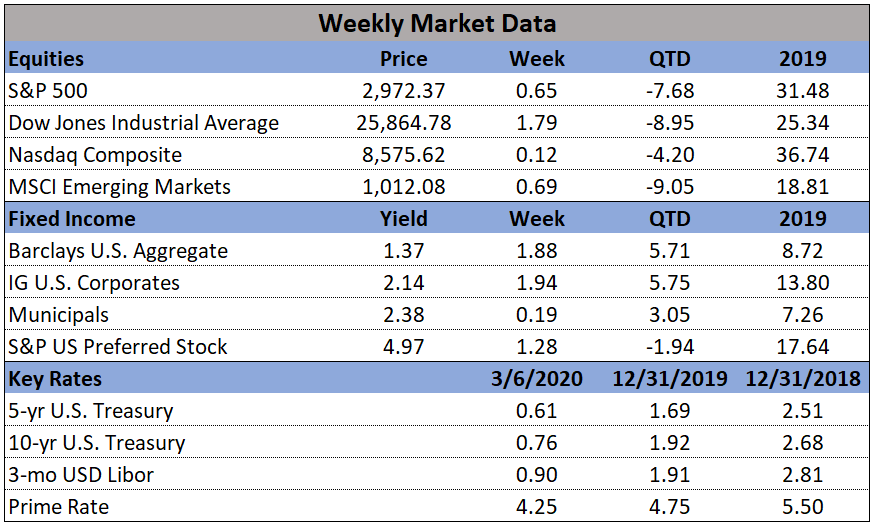 In the markets:
U.S. Markets: Volatile doesn't even begin to describe the day-to-day swings of the major stock indexes last week. However, at the end of the day, the large cap benchmarks and the technology-heavy NASDAQ Composite recorded gains for the week, while the smaller-cap indexes ended the week modestly lower. The Dow Jones Industrial Average added 455 points last week ending the week at 25,864—a gain of 1.8%. The Nasdaq Composite finished up 0.1%, while the large cap S&P 500 added 0.6%. The mid cap S&P 400 index finished down -0.9%, followed by the small cap Russell 2000 which finished down -1.8%.
International Markets: International markets were red across the board, save one—China. Canada's TSX declined -0.5%, while the United Kingdom's FTSE retreated -1.8%. France's CAC 40 fell -3.2% and Germany's DAX finished down -2.9%. Italy, which has been particularly hard hit by the coronavirus outbreak, saw its Milan FTSE decline -5.4%. In Asia, China's Shanghai Composite finished up a remarkable 5.4%, while Japan's Nikkei ended down -1.9%. As grouped by Morgan Stanley Capital International, developed markets fell -0.8%, while emerging markets gave up -1.0%.
Commodities: Precious metals surged as investors headed for safe-haven assets. Gold gained over $105 to close at $1672.40 an ounce, an increase of 6.8%. Silver finished the week up 4.9% to $17.26 per ounce. Oil plunged for a second consecutive week, with West Texas Intermediate crude declining -7.8% to $41.28 per barrel. The industrial metal copper, viewed by some analysts as a barometer of world economic health due to its variety of uses, retraced some of last week's decline by rising 0.8%.
U.S. Economic News: The number of Americans claiming first-time unemployment benefits dipped at the end of February, as jobless claims remained near a 50-year low. The Labor Department reported initial jobless claims slipped by 3,000 to 216,000 in the week ended February 29. Economists had expected a reading of 217,000. So far there's little sign that the coronavirus epidemic has spurred companies to cut payrolls, but economists are watching closely to see if layoffs start to rise. The more stable monthly average of jobless claims, meanwhile, rose by 3,250 to 213,000. The four-week figure filters out the weekly ups and downs to give a better sense of labor-market trends. The total number of people already collecting unemployment benefits increased by 7,000 to 1.73 million. These claims had soared to as high as 6.6 million near the end of the 2007-2009 recession.
The monthly Non-Farm Payroll (NFP) report showed the U.S. economy created a surprisingly strong 273,000 new jobs in February—but the numbers were compiled shortly before the coronavirus contagion spread worldwide. Economists had forecast an increase of just 165,000. The unemployment rate ticked down to 3.5%--matching its lowest level in 50 years. The average wage paid to U.S. workers also improved, rising 9 cents, or 0.3%, to $28.52 an hour.
Manufacturers reported slowing business as supply bottlenecks tied to the coronavirus limited their ability to get needed parts, a survey of executives showed. The Institute for Supply Management (ISM) reported its manufacturing index declined 0.8% point to 50.1% in February. Economists had expected the index to total 50.5%. Readings over 50% indicate expansion, so the report stays – barely – in expansion territory. In the report, the ISM new-orders index slipped 2.2 points to 49.8% as new orders for manufactured goods fell into contraction. Production was barely positive. With the virus continuing to spread around the world, it's more likely that conditions will worsen before they get better. Chris Williamson, chief business economist at IHS Markit stated, "Manufacturing production and order book trends deteriorated markedly in February as producers struggled against the double headwinds of falling export sales and supply chain delays."
Conversely, the much larger services side of the economy expanded at its fastest pace in more than a year in February, but concerns over the coronavirus continued to grow. ISM reported its survey of service-oriented companies such as restaurants, hospitals, and recreation climbed 1.8 points to a robust 57.3. Economists had forecast a reading of 54.8. Service-oriented companies that derive most of their sales in the U.S. had been better shielded from the trade fight with China than American manufacturers, but the coronavirus is a different story. The viral outbreak has already hurt tourism, transportation and travel-related businesses and other sectors might soon feel the ill effects. While 16 of the 18 industries tracked by ISM said their businesses were expanding, that optimism appears to be fading. Anthony Nieves, chairman of the index committee stated, "Most respondents are concerned about the coronavirus and its supply chain impact."
The Federal Reserve's "Beige Book", a collection of anecdotal information on current economic conditions from each of its member banks, showed that the coronavirus was starting to have an impact on the U.S. economy—especially the travel and tourism industries. The report also found worries among manufacturers that their supply chains would be disrupted in the coming weeks. However, even without the coronavirus, growth seemed to have slowed since the start of the year. While economic activity was seen as "modest to moderate" in the majority of Fed districts, two regional Fed districts — St. Louis and Kansas City— reported growth has fallen to a standstill. Worried about the impact of the coronavirus, the Fed cut its benchmark rate by a half-point on Tuesday to a range of 1%-1.25%. Jennifer Lee, senior economist at BMO Capital Markets stated, "It sounds like it might still be early days but certainly enough of the Fed's business contacts were raising enough red flags to prompt action by the central bank."