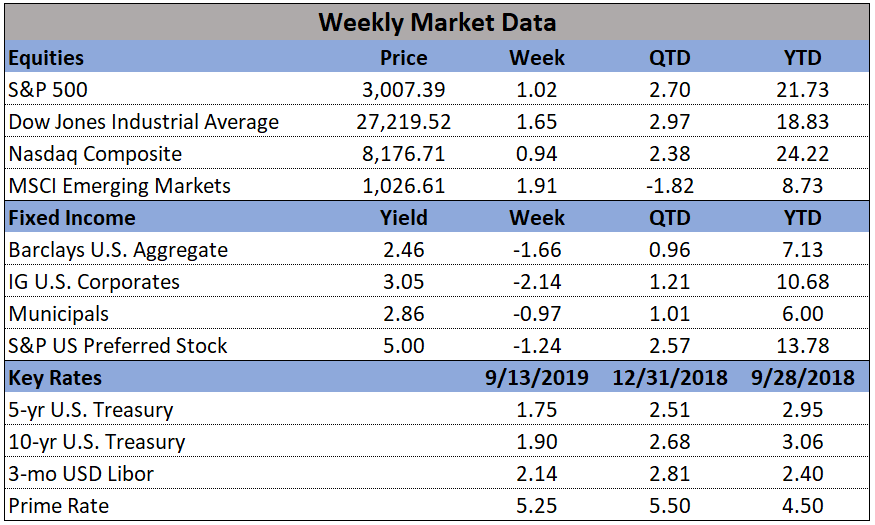 In the markets:
U.S. Markets: U.S. stocks recorded their third consecutive positive week as investors responded to a series of positive market developments. The gains lifted the large cap benchmarks back to within 1% of their all-time highs, but it was the small caps that led the way with substantial gains for the week. The Dow Jones Industrial Average added 422 points last week to finish at 27,219, a gain of 1.6%. The technology-heavy NASDAQ Composite added 0.9%. By market cap, the large cap S&P 500 rose 1.0%, while the S&P 400 mid cap index and small cap Russell 2000 index rose 2.7% and 4.9%, respectively. Not detectable from the headlines, the hidden story of the week was a big jump in value stocks compared to growth stocks. This appeared to be the result of financials - the biggest sector in the value space - catching fire on the back of a large rise in interest rates during the week (see the "Finally" section below).
International Markets: Major international markets were green across the board last week as both the U.S. and China made concessions in their festering trade dispute. Canada's TSX rose 0.9% while the United Kingdom's FTSE added 1.2%. On Europe's mainland, France's CAC 40 rose 0.9% and Germany's DAX added 2.3%. In Asia, China's Shanghai Composite gained 1.1% while Japan's Nikkei surged 3.7%. As grouped by Morgan Stanley Capital International, developed markets rose 2.2% and emerging markets gained 2.4%.
Commodities: Gold sold off given the strength in the equity markets declining -1.1% to close at $1499.50 an ounce. The often more-volatile Silver declined just over -3% finishing at $17.57 an ounce. Oil finished the week down -3% as West Texas Intermediate crude oil finished the week at $54.85 per barrel. The industrial metal copper, viewed by analysts as a barometer of world economic health due to its wide variety of uses, rose for a third straight week finishing up 2.5%.
U.S. Economic News: The Labor Department reported that the number of Americans seeking first-time unemployment benefits fell to a 5-month low of 204,000 last week. Initial jobless claims fell by 15,000 to its third lowest reading of the current economic expansion that began more than 10 years ago. Economists had expected new claims to total 213,000. The reading remains far below the 300,000 threshold that analysts use to gauge a "robust" jobs market. The less-volatile monthly average of new claims fell by 5,250 to 212,500. That number is near an eight-week low. Continuing claims, which counts the number of people already collecting unemployment benefits, fell by 4,000 to 1.67 million. That number is reported with a one week delay.
Analysts noted that despite a drop in job openings and slower hiring, the labor market remains strong. Their assessment is based on the record number of workers quitting current jobs for presumably more lucrative ones. The share of workers quitting jobs hit its highest level since the Great Recession in August. The so-called "quits rate" rose to 2.6% among private-sector employees. That matched a high reached in 2008. The only time the quits rate has been higher was in 2001. In addition, job openings remain near their highs and easily exceed the 6 million Americans officially classified as unemployed. The U.S. has added an average of 150,000 new jobs a month in the past six months, down from 232,000 in January.
Prices inched up last month for U.S. producers, but broad inflation remained low showing little sign of trouble for the domestic economy. The Bureau of Labor Statistics reported the wholesale cost of goods and services ticked up 0.1% last month. Economists had predicted no increase. Removing the volatile food, energy, and retail-trade margin categories, so-called "core" wholesale inflation rose a sharper 0.4%. The increase in the core rate of wholesale inflation over the past 12 months rose to 1.9% in August from 1.7%. Economists prefer core inflation readings because food, gas and trade margins can swing sharply from month to month and mask underlying price trends. Overall, wholesale inflation has risen 1.8% over the past year, up from 1.7% last month's year-over-year reading.
Cheaper fuel costs kept inflation in check for U.S. consumers, but rising costs for healthcare and housing indicated underlying price pressures could be building. The consumer price index rose 0.1% last month, matching economists' forecasts. Over the past year, the cost of living has risen 1.7%, government figures show. However, stripping out the volatile food and energy categories, inflation has accelerated since the beginning of summer. Core inflation rose 0.3% for the third month in a row. Over the past year, the so-called core rate advanced to 2.4% - a 13-month high. The last time the core rate of inflation was higher was in 2008. Chief economist Stephen Stanley of Amherst Pierpont Securities wrote in a note to clients, "It is not clear that inflation fires are breaking out, but we're starting to see some pretty substantial smoke."
The optimism of the nation's small business owners hit a five-month low in August according to the National Federation of Independent Business (NFIB). The NFIB reported its small business optimism index fell 1.6 points to a seasonally-adjusted 103.1 in August, its worst reading since March. In the report, the percentage of owners expecting the economy to improve dropped 8 points, while those expecting real sales to improve fell 5 percent. Only 3 of the sub-components of the optimism index improved, while 7 declined.
In contrast to the NFIB report above, the sentiment among the nation's consumers rose more than expected in September as consumers felt more confident about both current and future economic conditions, the University of Michigan reported. UofM's September print on consumer sentiment rose 2.2 points to 92. Economists expected sentiment to rise to just 91. The current economic conditions index also rose to 106.9 from 105.3. Richard Curtin, chief economist of the survey, noted while consumers feel more confident about the economy, worries about the impact of tariffs on the economy increased in early September. Curtin stated 38% of consumers surveyed made "spontaneous references to the negative impact of tariffs, the highest percentage since March 2018."